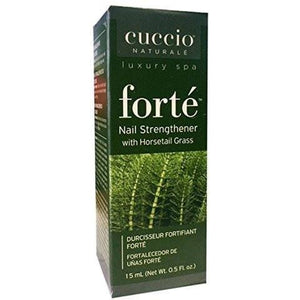 Cuccio Forte Nail Strengthener 0.5 fl oz
First botanical nail hardener with no formaldehyde or toluene, the first complete nail FORTIFIER. Formulated with Horsetail grass which acts as an "elasticizer", making nails more pliable which will eliminate cracks & brittleness. Most nail hardeners on the market utilize formaldehyde or formaldehyde resins to harden the nails but in reality, causing them to crack and break with time as they become dry and brittle. Cuccio's Forté has been fortified with many botanicals to strengthen your nails and allow them to grow to the desired length.
Usage: Use Forté Plus Nail Strengthener 1-2 times per week, alone or over polish for longer, stronger nails.