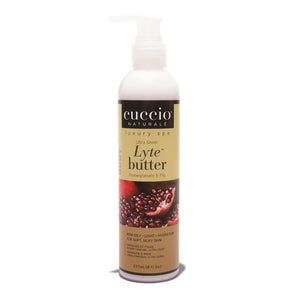 Cuccio Lyte Ultra Sheer Pomegranate & Fig Body Butter 8 oz ( Hand, Body and Foot Cream )
10x the Moisturizing Power of Lotions
Benefits: The most potent blend of antioxidants in one ultra sheer body butter! Reduces fine lines and wrinkles, promoting healthier and younger looking skin.
Promotes: Anti Aging & Revitalizing
Caution

- Keep out of children
- Store in a shaded area at room temperature

Usage

Use daily on hands, feet and body.
Available in 2 Sizes:
8oz
32oz