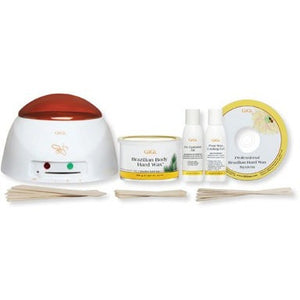 GiGi Brazilian Waxing Kit ( Hard Wax Kit )
Brazilian Waxing is one of the hottest profit centers in today's salon market. GiGi Brazilian Waxing Kit is a complete hair removal system that provides everything needed to perform a Brazilian waxing service, featuring a wax warmer, Brazilian Hard Wax and other waxing essentials.
Contains
1 Wax Warmer
Brazilian Hard Wax 14 oz
Pre Epilation Oil 2 oz.
Post Wax Cooling Gel 2 oz
10 Small Accu Edge Applicators
10 Large Accu Edge Applicators
250 V, Plug suitable for Singapore uses.
1 year warranty from date of order included