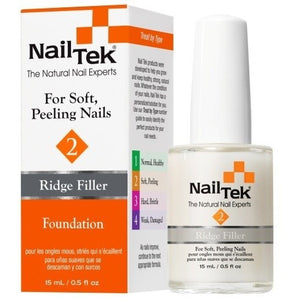 Nail Tek Foundation 2 0.5 fl oz – Ridge Filler for Soft, Peeling Nails
1.Special blend of strengtheners, conditioners, micro-fibers and natural fillers.
2.Fills unsightly ridges and nail damage while protecting the natural nail.
3.Completely covers nail irregularities such as corrugations and furrows. 
4.Smoothes uneven nail surface and disguises nail imperfections.
5.Complements Intensive Therapy 2 or Moisturizing Strengthener 2 for enhanced nail health.
6.Best used as a base coat.
7.Foundations dry to a matte finish.

Application: 

Apply to properly prepared nail plate. 
Begin at the half moon, stroking toward the end of the nail. Be sure to keep all nail
products away from the cuticle and skin as they may cause dryness.
After 7 days, remove with a non-acetone remover and restart program.
Reevaluate nail health weekly to determine appropriate formula. 
As nails improve, continue to the next appropriate formula. 
Helpful Hint:
Foundations make great base coats for neon polishes. They help to adhere and prevent chipping.
Available in 0.5 fl oz