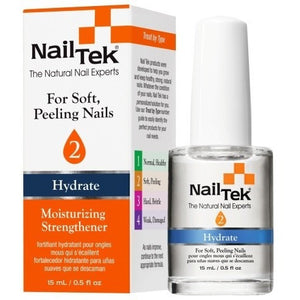 Nail Tek Moisturizing Strengthener 2 0.5 fl oz – Moisturizer for Soft, Peeling Nails
Hydrating formulation contains Pentavitin, a unique water magnet molecule that prevents water loss.
Contains water-soluble vitamins A, E and Calcium.
Transforms the surface of the nail into one that can moisturize itself, as well as the underlying nail bed by holding water.
Use in conjunction with Foundation 2 for maximum results.
Strengthens without drying.
Maximum hydrating formulation.
Use if nails are dehydrated from being exposed to water or harsh chemicals.
Can be used daily as a base coat or top coat.
Dries clear.
Application:
Apply to properly prepared nail plate.
Begin at the half moon, stroking toward the end of the nail. Be sure to keep all nail products away from the cuticle and skin as they may cause dryness.
Reapply daily as top coat for 7 days to reseal and protect free edges.
After 7 days, remove with a non-acetone remover and restart program.
Reevaluate nail health weekly to determine appropriate formula.
As nails improve, continue to the next appropriate formula.
Helpful Hints:
Apply daily as a top coat for maximum results
Available in 0.5 fl oz